Important:
Everything I Own is in storage 3 hours from here.
In other words: I won't be able to do anything for a few months: I don't have anything to work with. It is ALL boxed up... Updated 5-15-2009
This Version of the Generator:
I made it able to be Timed "On-the-Fly" no need to shut it down and take apart the pulse motor pickup's or the fly wheel plate.
I added a unique Retard and Advance Pickup Head that is adjusted when ever you want while it's running.

I made a larger than my last rotor out 3/4 Machine Grade Plastic and made the frame a bit smaller to Help get the Rotor Spinning by hand at Start-up as there now apx. 1900 pounds of force holding it back at Start-Up. The frame design will now allow your fingers to get cut off this time.
I am using all Grade 52 Neo's in this version.
Redesigned the Coil packs to be Quick Change on my Cutom Coil cores.
I reduced about 1/3 more of the Magnetic Braking Effect with this version which gave it more power output, by building each coil core from Soft steel with a custom center
1,118.00 dollars tied up so far in this version.
Still have to buy 900 dollars of Magnet's
Still have to buy 400 dollars of Timing Circuit's
Still have to buy at least 2 of the 1000 watt power inverter's
Still have tobuy at least 4 Deep cycle 12v batteries
Still Need 32 more coils of 726 feet mag wire
Still Need 32 more 3 amp Rect's
Still Need 40 more 6 to 8 lug Terminal Mounts
Still have to buy 2 Auto-power transfer circuit's (used on solar homes)
May need to buy a 220v power conditioner transformer to prevent Stall Out on Surge
Most Important is Sell my house so I can move to my Storage Unit and start building this again...
* I saved part of the power Re-Used Power made by this version by having this custom 11 amp12vdc motor built. I lost a lot in RPM, but saved it in AMP's consumed by coming down from 17amp demand *
* The Brand New batteries will only hold up for about 8 months on previous Testing of Earlier Version's *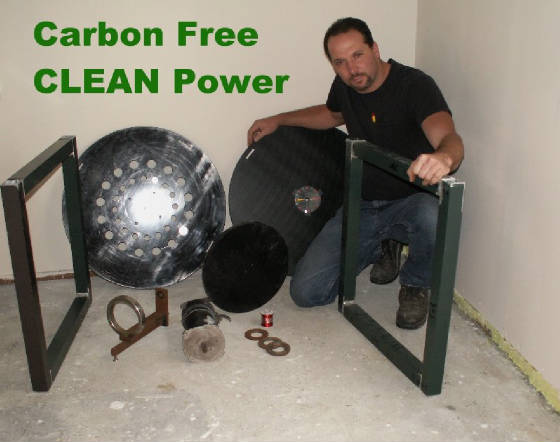 10-14-2009
Any country or Group Serious about Saving our Planet Needs to Click on: Free Electric
People Everywhwere are " talking about saving our planet" , I did something about it...
This Generator is Silent once it spins up and would make each home owner Responsible for thier OWN Power Generation
I am Working on a Fluid Turbine Perpetual Machine

Click Here to see Details -2009-
I was told of Government Grant's to Research Idea's.
I have built a working Mini-Model and want to Build a FULL SIZE Ver.
Please contact me if your are interested in Helping:
The Above pictures can be Clicked on to Watch the Model Running. It is a Working Mini-Version of the one I am building
to Power Up the average house. They run nearly Silent once it
Spin's up, and should last about 130 years before failure.
Based on hdd life est. at 5400 rpm for 5 years
My Buisness Card -Attempts at Getting the Word Out
The only Funding I have to Let People Know I DID IT
Back of my card
I am not all talk, I am doing something